Lovely people of wetfjord!
This has been an awesome year for us and all thanks to you!
We got many awesome new people to join our community, who built or finished many amazing projects, we moved over our community from skype to Discord, started servers for more games then just Minecraft and laid the foundations for a true Wetfjord UNIVERSE! (We also had an unexpected bit of downtime, which we are very sorry for, more info to follow down below!)
But we wont stop there! Next year will see the addition of even more servers and Discord text and voice channels, such as Terraria, OpenTTD and more! We are always open for suggestions, and if there are enough people to make it worth it, we'll consider it 🙂
We will move hosts after the new year's weekend, this will give us more stability after last decembers unexpected downtime, the Terraria server will also be put online afterwards!
We also got the results of the survey in
A querster of the peoople who responded were alread playing for a year!, while 25% has been here for 1-6 months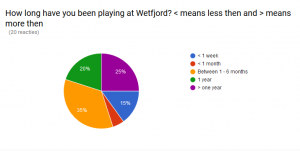 Most of you people found us through friends! followed by even shares of reddit, facebook and other ways!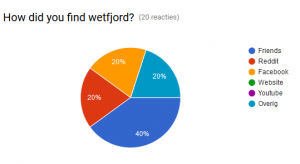 The things you guys know most about wetfjord are the website, the minecraft serer and the discord channel, followed by the render, wiki, and facebook!
This is what we were humbled most about, ALL people who responded would recommend wetfjord to their friends, citing reasons that basically amount to: "its an awesome place to be, nice community!"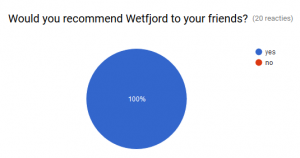 And the stats of our minecraft server!
since tracking in december 2015 began, you guys have played a grand total of 1 year, and 257 days worth of playtime!, the plugin tracks 271 people, and our record of people online is 23! most amount of playtime is HARMSY, WITH 102days and lest is AltijdSander with 1 minute, 16 seconds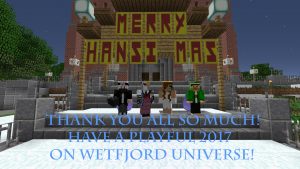 Thanks again for making this a fantastic year, and we hope to see you in 2017 and beyond!
//The WetFjord Universe team